The Tobago is the kayak for all the family and all uses. Its ergonomic seating positions and well researched design provide for numerous possibilities of use: paddling alone, with 1 or 2 children, 2 adults, even 2 adults and 1 child. The fluid hull lines mean itís also well suited to sport kayaking, with the additional crew of your choice, all with maximum comfort and safety. Itís a kayak thatís fun, stable and fast.
Click here for more information.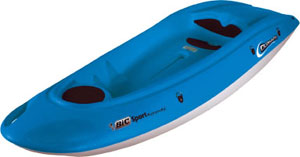 The Ouassou is designed as a versatile, fun kayak with a wide range of use. With its excellent glide, control and manoeuverability, the Ouassou is ideal for beach fun. Also, the stern handles let you to hang on to the stern and swim and also allow easy access on board. The Ouassou also handles surf and waves comfortably. The 'spatula' shaped hull is derived from surf longboards and rodeo kayaks. It's quick and responsive.
The slight keel and lateral rail design provide directional stability and excellent tracking. Also, the Ouassou's knee-strap system allows you to secure your body to the cockpit when you are looking for greater control. Its compact form and light weight make this a kayak that is easy to manoeuver, transport and store.
Click here for more information.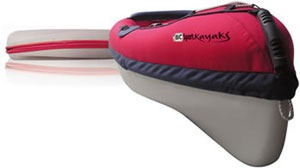 The Yakka range was designed for those with limited storage space for their kayak. The principle is similar to other semi rigid, folding boats: it can be folded and stored in a small space.

Click here for more information.



With its narrow, water-cutting bow section and clean hull shape, the Scapa is a boat that is designed for speed. The look matches the feel in every way but still retains the excellent stability and added safety and comfort you expect from a BIC 'Sit on Top'. The Scapa is a new generation "hybrid" kayak and features a unique cockpit closure system which keeps you dry and warm during off-season or rough-water paddling sessions, but is easily removed for warmer, quieter paddling. With excellent speed, the Scapa is a true sport boat designed and built for fast cruising and physical conditioning. What's more, it's an excellent boat for learning sea kayaking. Even in difficult sea conditions, the Scapa holds its course thanks to its superb glide and reassuring stability. The molded baggage storage area behind the cockpit allows you to load up with diving tanks, as well as fishing or hunting equipment.
Click here for more information.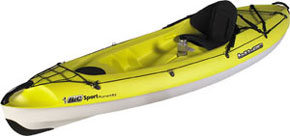 The Bic Sport Bilbao is a versatile kayak that will suit beginners and experienced kayakers alike. Whether youíre paddling for sport, exploring, diving or having a quick paddle with the kids, the quality of its design makes all activities possible with comfort and ease. The fluid hull shape provides a nice smooth ride, while the deck shape and quality extras allow you to carry almost any load with optimum stability and guaranteed safety. Its size and reduced weight make it easy to stow and transport.
Click here for more information.