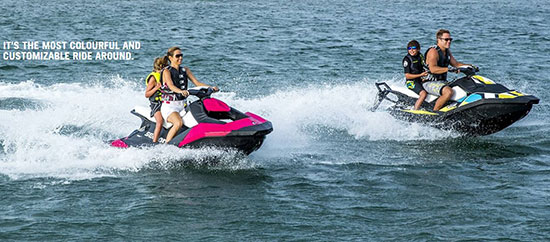 Cape Cod's only jet ski rental featuring the new, exciting Sea Doo Spark Jet Ski
2 person (max weight capacity 300lbs) ...perfect for families.
We also offer guided Jet Ski tours of Buzzards Bay.

Sea Doo - World's Safest Jet Ski
With a Computer Controlled Braking System
Stop up to 100 feet sooner than other watercraft with the squeeze of a lever
Intelligent Brake and Reverse (iBR) and Intelligent Throttle Control (iTC) for incredible maneuverability that also makes docking easier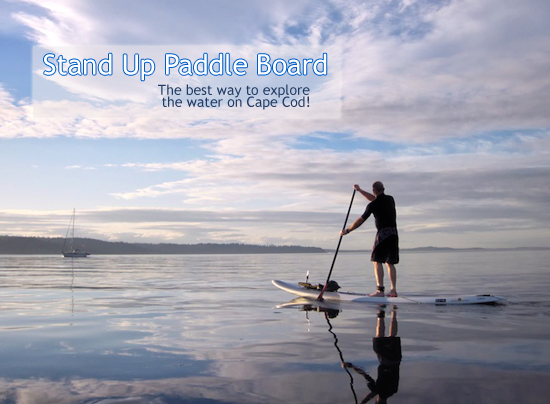 Stand Up Paddle Board (SUP) is a fast growing sport that offers a fun,
easy way to enjoy the water on Cape Cod.
Rent our Stand Up Paddle Boards (SUP)...have a blast with friends & family!

Easy to learn for adults & kids (and women excel at SUP because of their lower center of gravity!)
SUP can be done on any body of water, from high surf to flat water.
Great exercise for improving core strength & balance
A perfect way to explore the beautiful shores of the Cape
SUP boards are longer and wider than traditional surfboards, so they provide more stability for a person to stand while paddling
Stand Up Paddle Boarding originates in the Hawaiian Islands. In the early 1960s, the beach boys of Waikiki would stand on their long boards, and paddle out with outrigger paddle

Call or email for more details
Tel: 508-801-3329
Email Us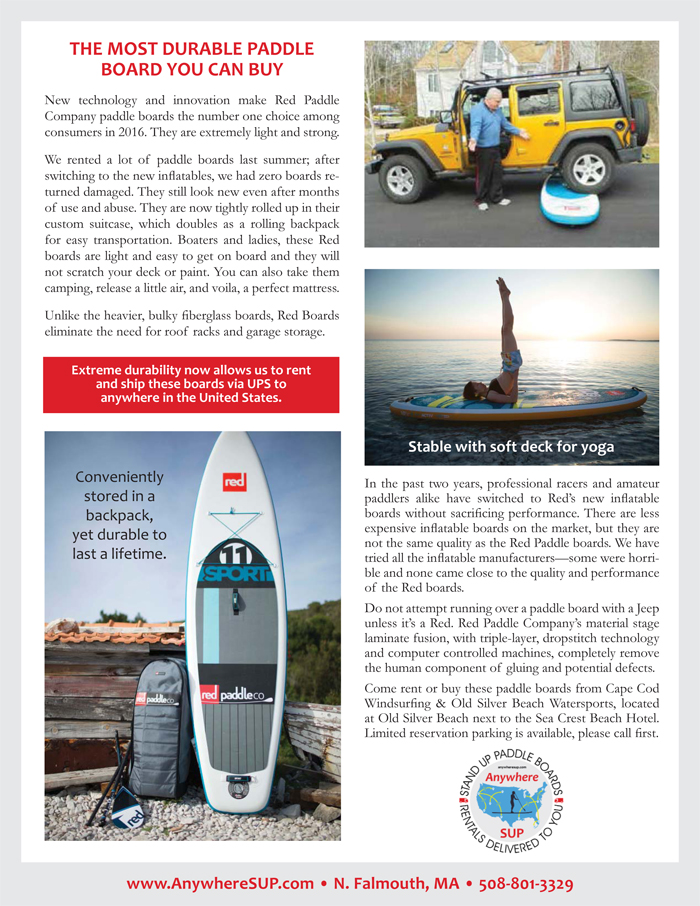 Windsurfing & Kite Sailing on Cape Cod
Windsurfing has been around for 25 years and along with small and large sailboat sailing is truly the cat's meow. Once you take a few simple lessons you're off for hours of great, safe fun.
Windsurfing technology has improved tremendously with wider and more stable boards and fins. There is a rebirth of light to moderate windsurf racing due to the new Formula boards and light race sails. If you gave up windsurfing a few years ago because of equipment deficiencies and frustration because your gear just didn't work that well, then please pay me a visit and I will turn you on to the new generation of windsurfing that will light up your life.
Kite sailing is the new guy on the block and I expect kite sailing to have the same benefits to windsurfing as snowboarding did for the ski industry. However, kite sailing is an extreme sport with a huge learning curve. The lighter the wind the less chance for injury to yourself or others. The sport is evolving everyday with better and safer products. The already experienced kite sailor is also evolving and pushing the envelope to more dangerous winds and tricks.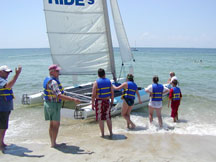 Please be humble when you begin your kite career and take lessons from pro instructors, read all the kite magazines and community kite news @ iwindsurf.com. Respect this sport and the people around you on the beach. Always ask another experienced kite sailor for help in landing and launching. Never have a sunbather with no kiting experience to help you with your kite.
I learned to kite sail the winter of '02 on the beaches in Florida and boy let me tell you that it is like a rebirth in watersports for me. Every time I launch my kite I ask my friend and my higher power to keep me from another kitemare. It's a new challenge at 46 years old and I have gained a huge respect for the fun and potential dangers of the sport.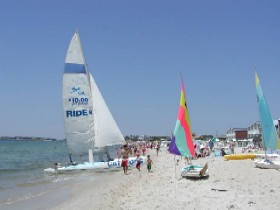 I first put in 10 hours of small kite sailing on the beach and body dragging through the water. I then got my first moderate size 13.5 to fly. I asked a friend to help set up the lines properly and launch the kite. I walked up wind with my lines and at the last second asked another kite sailor to stand next to me while I launched. Instead of standing next to me he went behind me and grabbed both hands on the back of my harness. I launched and the kite took off to fast and by the time I heard him say let go of your bar, his feet holding on to me were 15 feet off the ground. I let go and we both fell from 25+ feet to the sand. Luckily no one was injured and believe it or not the wind was only 16 or 17 mph. I went windsurfing for the rest of the day and went for more kite sailing lessons the next day.
KITEBOARDING
Due to the extreme nature and risk of injury or death, we are no longer offering Kite Sailing Lessons
*** No kite flying allowed on Hotel Beach. ***
Please do not park in the Sea Crest Beach Hotel.
parking lot as it is for guests only
there is public parking at Old Silver Beach.